Last night at exactly 6pm Paul, Luna and I arrived home. Sienna and Memere greeted us at the door. Sienna was nearly jumping off the walls with the excitement that her baby sister was finally home.
As predicted, yesterday was a long process. We were supposed to be discharged at noon but little Luna-apparently has a flair for the dramatic like her sister-decided she would keep us on our toes with a tiny scare. The previous night the nurse changed her diaper (ahhh...to have one of those amazing nurses come home with me!) and exclaimed that her poop looked 'funny'. The word
funny
strung along with
poop
in a sentence usually doesn't mean anything humorous at all, but rather something very 'unfunny' and potentially even downright nefarious. In Luna's case the green in her poop meant blood. Who knew green poop somehow translated as red blood. So, starting at about 2am Wednesday morning every diaper was tested. Two diapers came back with trace amounts of blood. This can mean a whole litany of conditions ranging from blood ingested during breast feeding to a much graver condition where the body (I hope I get this right) over circulates and the baby develops something called NEC-an acronym for something I won't even pretend to understand on 4 hours sleep.
Along with testing Luna's diapers the nurses checked her little bum for a fissure (none there) and several doctors and nurses gave her belly exams. In the end the feeling was perhaps she has a milk allergy since the two suspect diapers were found after Luna ingested a breast milk bottle fortified with formula (which is made from cows milk). Little Luna apparently wants to be just like her sister. Since Sienna is lactose intolerant Luna decided she would be too.
In the end it was an easy fix-moving forward, the bottles we give with formula in order to fatten-up Little Luna-must be made with soy formula.
Since Luna was showing absolutely no signs of discomfort the doctors finally discharged us around 3pm.
Last night was our first night as a family of four and it felt wonderful to be reunited at last...even despite the fact that both our 'babies' had Paul and me up all night!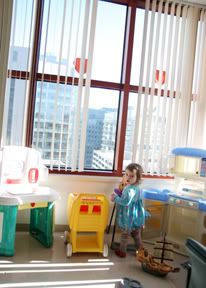 Sienna in the playroom-just two doors down from Luna's room at Children's. As you can see this is vacation as far as Sienna is concerned!