Goddess of the Moon
. That's what 'Uncle Tom' the anesthesiologist called Luna as the medical team wheeled her out to the OR. He called himself Uncle Tom because I had just asked what blood type she is (A positive, same as her Mama) and he replied that he too was an A positive so they must be related. As it turned out she did need some blood during and after surgery. This was alarming to me at first, but the team reassured me they are so tiny that losing a pint of blood is a much bigger deal for them than for us. (note to self: pay it forward, donate blood).
Paul and I waited by Luna's side anxiously awaiting her 2pm surgery time. An hour and a half later the medical crew of 10 entered her room scrubbed up and ready to proceed. The team consisted of three anesthesiologists, three surgeons, four cardiology attendings and fellows, and an OR nurse. The team briefed us on the timeline and details of the surgery which was to begin with administering the anesthesia, then continue with the surgery and then an hour of regulating her circulatory structure once the shunt has been inserted.
Uncle Tom was to be the liaison to Paul and me and he followed through with three phone calls to us while in surgery. One call to let us know she had successfully took to the anaesthesia (this took the longest of the entire procedure-it's tough to find veins when you weigh only 7lbs). Another call was made to us once the surgery had begun. And we received a final phone call from the head surgeon once the surgery was completed successfully. Luna went in at 3:30 and by 6:30 she was out and taken back to her room where she was regulated for the next 2 hours.
Paul and I were back in her room at 8:30pm and greeted by one of the surgeons who had operated on her. Nothing can prepare you for the first sight of her tiny body hooked up to four IVs, a breathing tube, blood drain, and blood line. I remember little of what was said during our first visit except for a kind nurse who brought over two boxes of Kleenex (they keep them locked up on the Cardiac ICU, and for good reason) and stuffed a handful of Hersey's mini chocolates into the pocket of my robe. (Note to self: next time someone is in distress remember to stuff chocolates into the distresee's pocket, it works wonders).
Paul and I went back to Luna's room first thing this morning. The doctors seemed almost giddy with her prognosis. Dr Brown, her cardiologist, walked into her room, looked at her stats and stated with complete amazement that babies usually have a much rougher time with the recovery. Not Luna. Her body took to the shunt fabulously. Her stats are exactly where they should be and she was even stirring and trying to open her eyes-showing again that she is fighting to pull herself up from underneath all her equipment. When we left her today for lunch the nurses were weaning her off the oxygen. The plan is to take her completely off the breathing tube by late this afternoon and start her on a bottle (!!). In a very short time, Little Luna will look and feel like the Moon Goddess she is.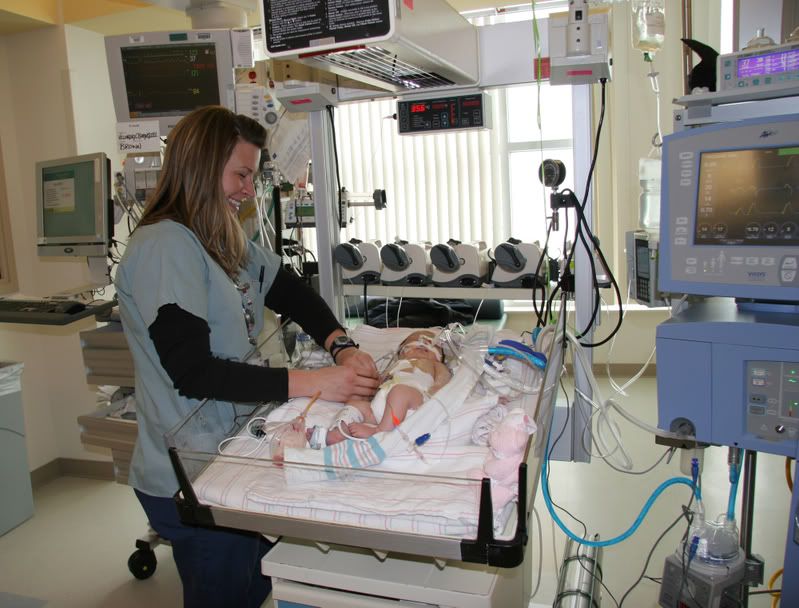 Sara, the kindest nurse in the world taking Luna's temp